The GOP Convention was held on July 18th-20th in Cleveland, Ohio. Asian American and Pacific Islander (AAPI) elected officials, surrogates, delegates, leaders and activists had an impressive presence at the Convention. AAPIs headlined events, gave keynote speeches, and were heavily focused on by both mainstream and native-language media. With the Convention officially over, AAPI Republicans are at full speed working to elect our Republican nominee Donald Trump in November. Here is a quick recap of the Asian American footprint on the GOP Convention.
PRE-CONVENTION
–OHIO SPEAKER OF THE HOUSE CLIFF ROSENBERGER HOSTS "WELCOME TO OHIO LATE NIGHT" CONCERT:
Speaker Rosenberger, the first Asian American Ohio Speaker of the House, hosted Lynyrd Skynyrd at the pre-Convention event benefitting charities in support of our nation's veterans.
Welcomed the RNC to CLE @ last night's Lynyrd @Skynyrd concert to honor veterans! https://t.co/LTz4Gj5wAX #RNCinCLE pic.twitter.com/4t4ml36BYo

— Cliff Rosenberger (@CARosenberger) July 18, 2016
–GOP CONVENTION'S FIRST ASIAN AMERICAN DIRECTOR OF OPERATIONS PROFILED IN LOS ANGELES TIMES:
Marcia Lee Kelly, an American of Korean descent, was profiled in the Los Angeles Times for her work in putting on one of the most impressive political conventions to date. Read more here.
MONDAY, JULY 18
–ARIZONA STATE SEN. KIMBERLY YEE DELIVERS KEYNOTE SPEECH:
In Monday night's official Convention program, Arizona State Sen. Kimberly Yee shared her family's immigrant background as well as her journey in becoming a rising Republican star..
–APIA VOTE HOLDS BRIEFING ON ASIAN PACIFIC AMERICAN ENGAGEMENT:
RNC Director of APA Engagement Jason Chung and Brunswick, OH Mayor Ron Falconi represented the Republican Party at APIA Vote's briefing detailing AAPI voting trends.
The "canary in the coal mine" Asian American PI swing vote gather at @APIAVote briefing, at #RNC2016 #RNCinCLE pic.twitter.com/auEHlQemoe

— Richard Lui MSNBC (@RichardLui) July 19, 2016
–MAYOR FALCONI APPEARS ON THE FILIPINO CHANNEL'S BALITANG AMERICA:
Mayor Falconi discusses the importance of educating more Asian Americans about the Republican Party's values and how he sees the Filipino-American community represented in the GOP.
–FORMER COOK COUNTY, IL GOP CHAIR AARON DEL MAR APPEARS ON THE FILIPINO CHANNEL'S BALITANG AMERICA:
Former Chairman Del Mar believes that Donald Trump's message resonates with Filipino- Americans.
–RNC DIRECTOR OF APA ENGAGEMENT JASON CHUNG SPEAKS WITH YONHAP NEWS ABOUT THE KOREAN-AMERICAN VOTE:
RNC Director of APA Engagement Jason Chung highlights the importance of earning the votes and trust of Korean-American voters across the country. Read more here.
TUESDAY, JULY 19
–KOREAN PRESS GAGGLE TAKES PLACE AT THE GOP CONVENTION:
Jason Chung, Orange County Supervisor Michelle Steel, and Dr. Shin joined various Korean media to discuss the Convention and the importance of the Korean-American vote. Read more here.
–MEET THE REPUBLICAN DELEGATE WHO HELPED FOUND KOREAN-AMERICANS FOR TRUMP:
Dr. Lisa Shin, a Republican delegate from New Mexico and member of the National Diversity Coalition for Trump explained why she supports Donald Trump's campaign for President. Read more here.
한인 의사 리사 ... :: 네이버 뉴스 NDCTrump Dr Lisa Shin speaker RNC @ka4_trump @MichaelCohen212 @Bruce_LeVell @WayneDupreeShow https://t.co/rAUh3ljFK4

— NDC For Trump (@NDCTrump) July 19, 2016
–CALIFORNIA REPUBLICAN NATIONAL COMMITEEWOMAN DELIVERS SIKH PRAYER DURING CONVENTION INVOCATION:
RNC National Committeewoman from California Harmeet Dhillon delivered a Sikh prayer during the second night of the Convention. Read more here.
Harmeet Dhillon (@pnjaban) opens the second night of #RNCinCLE with Sikh prayer pic.twitter.com/d7CbmTN347

— NBC Asian America (@NBCAsianAmerica) July 19, 2016
–SUBBA KOLLA BECOMES FIRST INDIAN-AMERICAN TO READ VIRGINIA'S PRESIDENTIAL NOMINATION:
During the Presidential Nomination roll call, Subba Kolla, Virginia's first national Convention Indian-American delegate, also became the first man of Indian descent to read the Commonwealth's presidential nomination votes.
Huge media presence to watch first Indian-American @VA_GOP delegate cast our votes #RNCinCLE pic.twitter.com/VwV7E9E2cM

— John Whitbeck (@JohnWhitbeck) July 19, 2016
–SUBBA KOLLA DISCUSSES THE INDIAN-AMERICAN VOTE IN THE GOP CONVENTION SKYPE BOOTH:
Post-roll call, Subba Kolla answered questions from fellow delegates live from the official GOP Convention Skype booth.
WEDNESDAY, JULY 20
–RNC HOSTS EVENT HONORING APA REPUBLICAN LEADERSHIP:
APA elected officials, delegates, and community leaders came together for a brunch honor APA Republican leadership. Notable attendees included RNC Chairman Reince Priebus, Trump Campaign Coalitions Director Alan Cobb, former U.S. Secretary of Labor Elaine Chao, Guam Governor Eddie Calvo ,Utah Attorney General Sean Reyes, Georgia State Rep. BJ Pak, Mayor Falconi, Supervisor Steel, and several Asian American RNC Committee-members. Read more here.
.@GOP Chairman @Reince Priebus speaking w/ #AAPI media, delegates, & surrogates today at @GOPconvention. #RNCinCLE pic.twitter.com/bhyhsTlPg8

— Elliott Yoshio Hulse (@ElliottHulseCA) July 20, 2016
–JASON CHUNG APPEARS ON SINA TV:
Jason Chung discussed Convention happenings to date.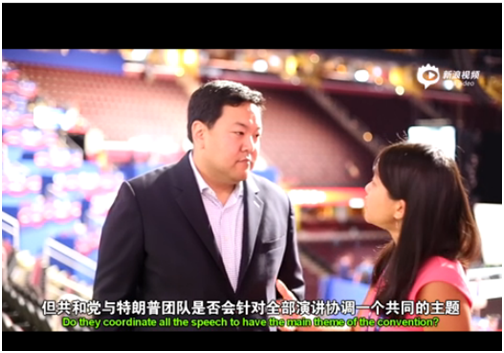 –MARCIA LEE KELLY APPEARS ON YONHAP NEWS TV:
Marcia Lee Kelly discussed her role as Convention Director of Operations.
–JASON CHUNG APPEARS ON YONHAP NEWS TV:
Jason Chung discussed Donald Trump's strategy for defeating Hillary Clinton in November.
THURSDAY, JULY 21
–DR. SHIN DELIVERS KEYNOTE SPEECH DURING PRIMETIME CONVENTION PROGRAM:
Dr. Shin delivered a primetime Convention speech noting Hillary Clinton as a 'threat to the American Dream.'
–FILIPINO-AMERICAN REPUBLICANS ARE READY FOR A DONALD TRUMP PRESIDENCY:
Several Filipino-American Republicans spoke with Asian Journal about their support for Donald Trump. Read more here.
###
---
GOP
Asia Pacific Americans