Polling in the last 24 hours shows the gubernatorial race tied or within the margin of error in Virginia – a state Hillary Clinton won by more than 5 points.
Democrat Lt. Gov. Ralph "No-Show Northam" has only accepted 3 of the 10 debates Republican Ed Gillespie challenged him to, and tonight it was obvious why...
If you watch one clip from tonight's debate, watch NBC's Chuck Todd struggle to get a straight answer from Northam over what should be a straightforward question, but one that's dogged Northam throughout the entire campaign.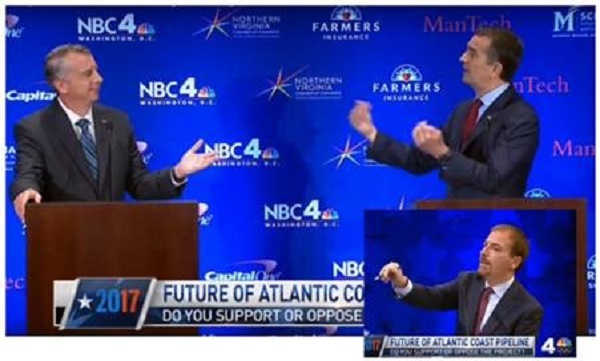 CHUCK TODD: Dr. Northam, I'm going to give you a minute but I need to follow up on something here. Hang on. I'll give you a second here but I want to follow up on something back on the original question. I'm still not clear. Do you support this pipeline or not? Is the DEQ now a new hurdle that you want to put? I just, following up on this because I'm not clear. Do you support this pipeline?
RALPH NORTHAM: I have been as clear as I can, Chuck.
TODD: Thirty seconds by the way.
NORTHAM: And that is the pipelines, if they move forward, if they are done environmentally responsibly, if they are done with transparency, if they're done with people's property rights in mind, then I do support them, yes.
TODD: So is the federal, so what FERC did, Federal Energy Regulatory Commission, is that enough or not enough for you?
NORTHAM: Well, again, as I explained earlier, we are working with the DEQ on the permitting, working with the Corps of Engineers and at the end of the day, yes FERC will have the final decision because it is a federal decision.
TODD: Alright, I'm going to leave it there. I promise you Mr. Gillespie, we're going to get to the economy in fact--
ED GILLESPIE: That was a yes or no answer…
---
Elections
DNC