Hillary might have a new campaign slogan:

"Nothing I did was wrong."
Despite the fact that Hillary broke the rules and exposed classified material more than 1,300 times, Clinton refused to admit her secret server was an "error in judgment" at last night's CNN town hall.
Repeating a mantra she has perfected, Clinton insisted, "Nothing I did was wrong. It wasn't in any way prohibited."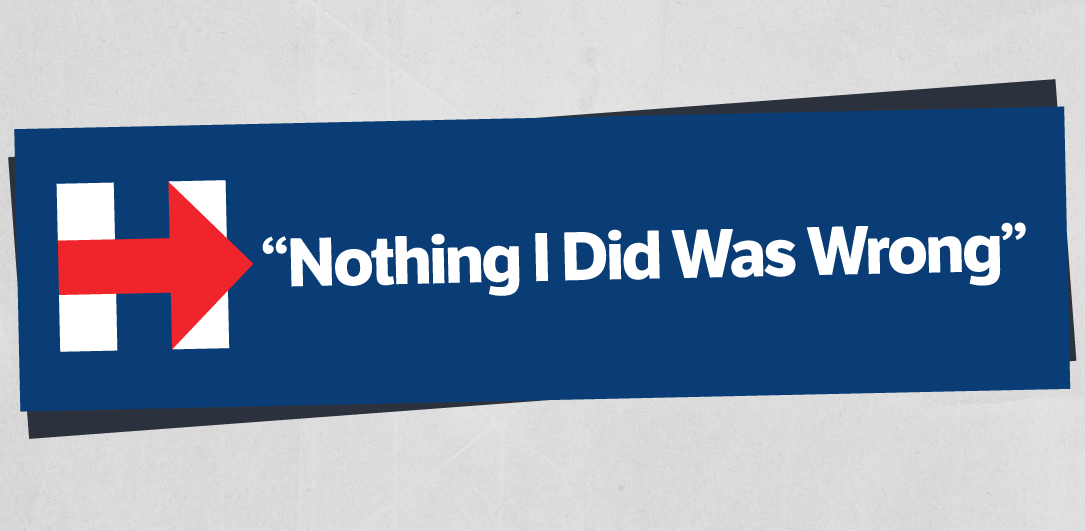 Hillary's refusal to admit her secret email server was a lapse in judgment can only add to the doubts Americans have about her honesty and trustworthiness.
They join a chorus of experts and observers — to say nothing of ongoing investigations by the FBI and the Intelligence Community Inspector General — who believe her behavior was a massive error in judgment with serious national security implications.
U.S. District Judge Emmet Sullivan: Clinton "violated government policy by storing official messages on a private server when she worked as Secretary of State."

R. James Woolsey, CIA Director Under Bill Clinton: Clinton setting up a private email system is "very irresponsible."

Michael Hayden, Former Director of the CIA on Clinton's Use of Private Email: "I don't even think it was legal. That has to be against policy."

Former CIA Officer Charles Faddis: "The consequence are enormous," and could cost lives.

Obama's Former Defense Secretary Robert Gates: "The odds are pretty high," foreign countries hacked Hillary's server.

Washington Post: "Her decision to exclusively use a private e-mail account while secretary suggests she made a deliberate decision to shield her messages from scrutiny. It was a mistake that reflects poor judgment about a public trust."

New York Times: "Hillary Rodham Clinton's decision when she was secretary of state to use only her personal email account to conduct official business was a disturbing departure from the normal practice of relying primarily on departmental emails for official business."

USA Today: "Regardless of whether Clinton broke any laws, her decisions about the server represented bad judgment bordering on recklessness."
Voters aren't looking for a politician who pretends the rules don't apply to them, particularly when it comes to safekeeping classified material important to our national security.

Hillary's denial won't change that.
---
Elections
Hillary Clinton