Donald Trump met with a small group of Haitian Americans on Friday in Little Haiti, a neighborhood in Miami, Florida.
Clinton, Trump said, failed Haiti when it needed help the most.
The Washington Post previously detailed the frustration from many Haitians with the Clintons:
As our Washington Post colleagues reported, some Clinton-backed projects didn't come through, such as a $2 million housing expo for thousands of new housing units. The Government Accountability Office found poor planning and unsustainable outcomes for taxpayer-funded projects through USAID, such as a $170 million power plant and port for the Caracol Industrial Park, which the Clinton Foundation promoted.
Hillary Clinton's younger brother had connections to a mining project in Haiti, raising suspicions among Haitians about the Clintons' motives. Luxury hotel projects paid by the Clinton-Bush Haiti Fund promised construction jobs — but for Haitians, it represented another disconnect between Clinton-backed efforts and the realities of one of the poorest countries struggling to rebuild after one of the worst humanitarian disasters in the Western Hemisphere.
Later, Trump told the crowd that he had come to "listen and learn" and to build a new relationship with the community.
The remarks earned Trump applause from attendees, several of whom said they went because they were curious and wanted to hear what Trump had to say. Most of their remarks to the candidate focused on their personal disappointment over the lack of progress in Haiti despite the involvement of Bill and Hillary Clinton.
The Miami Herald stated: "The fact that he came here is everything for us as Haitians," said Monique DieuJuste, 41, a Lauderhill residents who works as a registered respiratory therapist.
DieuJuste, who is registered with no party affiliation, said she plans to vote for Trump because the "Clintons haven't done anything for us."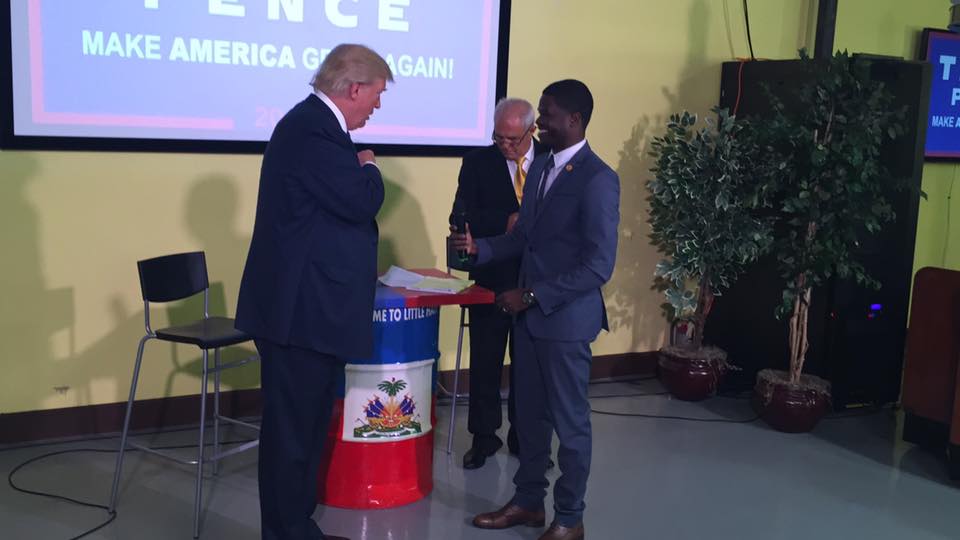 Attendees included Haitian doctors, lawyers, and former Haiti government ministers. Ringo Cayard, a Haitian community activist who help put the event together, said it's time for the Haitian-American vote to stop being taken for granted. With Donald Trump as president, no community will be left behind and every American will have a voice once again.
photos by: Madgie Nicolas
---
Elections
Election 2016