Maybe this is why Senator Donnelly refuses to condemn Chuck Schumer for the #SchumerShutdown…
This Saturday in Houston, Texas Chuck Schumer is hosting a fundraiser for Bill Nelson, Jacky Rosen, Beto O'Rourke, and you guessed it: Do-Nothing Democrat Joe Donnelly.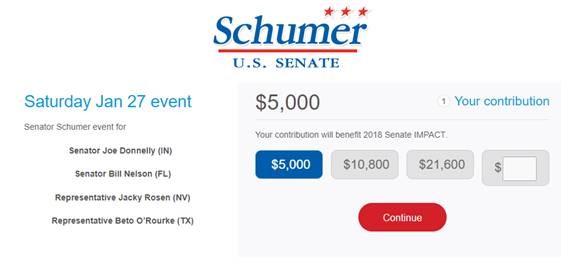 One day after the #SchumerShutdown, it looks like vulnerable, red state Democrats including Donnelly are doubling down on their reckless leader who insists on dragging them to the far left.
P.S. This probably won't help Donnelly's approval ratings, which dropped 7 points in the 4th quarter of last year.
"Senator Donnelly is not only supportive of Chuck Schumer, he's doubling down on his reckless party boss just days after a botched government shutdown. Chuck Schumer and his liberal out-of-state donor brigade are contributing large sums of cash to Donnelly because they know they can rely on his vote in the Senate when it matters. This fundraiser won't do any favors for Donnell's declining approval ratings among Hoosiers." –RNC Spokesperson Michael Joyce
---
Elections
Joe Donnelly