Since Becoming DNC Chair And Deputy Chair One Year Ago, Tom Perez And Keith Ellison Have Had A Myriad Of Miserable Moments

---
TOP TAKEAWAYS
A glance at Tom Perez's incompetence and dishonesty one year in as DNC Chair:

Perez decided to a take a teaching gig at Brown University after saying during the chairman's race that he would treat the DNC as a full-time job, even as the DNC has struggled to recruit and retain staff members
Perez struggled mightily with fundraising and not kept his highly-touted promises to state parties, and has instead resorted to greatly exaggerating the DNC's fundraising and level of support.
Perez promised to unify the divided Democrat party, but his "unity tour" was a disaster and he has only added to the division by purging the DNC of Bernie supporters.
Perez promised to welcome all Democrats within the DNC, including pro-life Dems, but has failed to do so.

A look at Deputy Chair Keith Ellison's greatest (worst) hits:

Ellison labeled President Trump as being less responsible than murderous North Korean dictator Kim Jong Un.
Ellison compared policies disfavoring sanctuary cities for illegal immigrants as being akin to not helping Jews in Nazi Germany.
Ellison posted a photo with of himself with an Antifa handbook on Twitter, a group that has in the past condoned political violence.
Ellison has refused to explain his relationship with anti-Semite Louis Farrakhan, with one commentator saying Ellison isn't "telling the full story."
---
This Week Is Tom Perez's One Year Anniversary As DNC Chair
Tom Perez Was Elected DNC Chair On February 25, 2017. "Tom Perez, the former labor secretary for President Barack Obama, was elected chairman of the Democratic National Committee on Saturday, replacing interim chair Donna Brazile after a rollicking, four-month race and a chaotic final day of voting." (Gabriel Debenedetti, "Perez Elected DNC Chairman," Politico , 2/25/17)
PEREZ'S LEADERSHIP FAILURES
Perez's Inability To Recruit And Retain Staff
DNC CEO Jess O'Connell Left The Organization After Being There Less Than A Year. "The CEO of the Democratic National Committee (DNC) is leaving the organization after less than a year, NBC News reported Monday. Jess O'Connell, a longtime Democratic operative, is leaving for personal reasons after joining the group in May, one DNC official told NBC, but O'Donnell didn't give a specific reason for her departure in an email to DNC staffers Monday." (Jacqueline Thomsen, DNC CEO Leaves Group After Less Than A Year: Report," The Hill , 1/29/18)
The DNC Fired Its Top Fundraiser In November 2017. "The Democratic National Committee dismissed its top fundraiser Thursday after just five months on the job, two Democrats familiar with the move told POLITICO. Emily Mellencamp Smith, the party's finance director, was let go in a shake-up of the party's senior leadership designed to energize the party's fundraising." (Gabriel Debenedetti, "DNC Fires Its Top Fundraiser," Politico , 11/2/17)
The DNC Went Without A Top Fundraiser For More Than 3 Months. "Three and a half months after firing its top fundraiser, the Democratic National Committee has hired a replacement. Clayton Cox, who has been serving as a senior adviser, will get the job, a DNC official confirmed Wednesday evening." (Edward-Isaac Dovere, "DNC Hires New Top Fundraiser," Politico , 2/14/18)
As Of Eight Months Into His Tenure, Perez Had Not Finished Staffing All The Departments At The DNC. "Staffing problems are contributing to the fundraising crisis. The DNC slashed its workforce after Election Day and is still working through a full-scale rebuild as Perez reshapes the party. One source familiar with the party's staffing told The Hill that the DNC only had three fundraising staffers when Perez took over, compared with a goal of staffing the fundraising department with 30 people. It took the party until June to announce its new fundraising director. Perez noted that the party is still in the process of staffing up in a statement to The Hill. 'At the DNC, we are still building up our team, including hiring fundraising staff, and making sure every aspect of our organization is moving in lockstep,' he said." (Ben Kamisar and Amie Parnes, "DNC Shake-Up Leaves Dems Behind In Fundraising," The Hill , 8/17/17)
Perez Promised To Be Fully Committed To The Chairmanship, But Less Than A Year After Being Elected, He Accepted A Job Teaching At Brown University
In December 2016, While Campaigning To Be DNC Chair, Perez Called The Role A "Fulltime Job" And Emphasized The Need To "Have Someone Committed Here For The Long Haul" And Stated He Was "Absolutely Committed To That." "'This is a fulltime job Nick. When I chatted with Bruce Poole and told him I decided to put my hat in the ring for this we had that conversation,' Perez said. 'You've got to have someone committed here for the long haul and I'm absolutely committed to that.'" (Daniel Strauss, "Tom Perez Formally Jumps Into DNC Race," Politico , 12/15/16)
In September 2017, Brown University Announced That DNC Chairman Tom Perez Would Be Returning To His Alma Mater To "Teach As A Senior Fellow" Last Fall. "Democratic National Committee (DNC) Chairman Tom Perez is returning to Brown University, his alma mater, to teach as a senior fellow at the Watson Institute for Public Affairs, the university announced Thursday. 'It's a great honor to welcome Brown graduate Tom Perez to Watson this fall,' the institute's director, Edward Steinfeld, said in a statement." (Oliva Beavers, "DNC Chairman To Teach At Brown University," The Hill , 9/7/17)
By Taking The Teaching Position In A Different State, It Seems Difficult To Imagine Perez Will Be Actively Working To Improve Relationships With Voters And Fragmented Groups Of The Party. "Accepting a teaching gig in a separate state isn't going to improve the DNC's stature with voters or help it recoup its losses across the country." (Michael Sainato, "DNC Chair Tom Perez Accepts Side Gig As DNC Struggles," The Observer , 9/7/17)
Perez's Decision To Teach At Brown Was Highly Questionable As The Position Is Typically Reserved For Retired Elected Officials And The Party Needs An Active, Committed Chair Now More Than Ever In Light Of The More Than 1,000 Seats Democrats Have Lost Over The Last Decade. "While he manages a party in disarray, Perez is taking a position usually reserved for retired elected officials. True to the course's name, this is a challenging time for the Democratic Party. Republicans hold majorities in both houses of Congress, and Democrats have lost over 1,000 seats in state legislatures across the country in the last decade. In 26 states, Republicans hold the governorship in addition to majorities in the state house and senate." (Michael Sainato, "DNC Chair Tom Perez Accepts Side Gig As DNC Struggles," The Observer , 9/7/17)
Perez's Lack Of Leadership Has Led To Poor Fundraising Numbers For The DNC
NPR Headline: "One Year In, DNC Turnaround Has A Long Way To Go." (Scott Detrow, "One Year In, DNC Turnaround Has A Long Way To Go," NPR , 2/22/18)
On Year In, Perez Still Has "A Long Way To Go" As The DNC Has Been Consistently Outraised By The RNC Throughout The Entirety Of His Tenure. "FEC report after FEC report shows that on the first front, Perez and his team have a lot of work to do. Democrats are being consistently outraised by Republicans, and have maintained a low cash-on-hand throughout the past year." (Scott Detrow, "One Year In, DNC Turnaround Has A Long Way To Go," NPR , 2/22/18)
Perez Is "Really Miserable In The Job" And "Hates The Fundraising." "'Tom is just really miserable in the job, which is part of why it's not going well,' said one Democratic official who has worked with Perez. 'He hates the fundraising and says no to so much of the fundraising even though they are obviously not in good shape financially.'" (Alex Thompson, "The DNC Promised $10M To Rebuild State Parties. It Has Not Delivered," Vice News , 1/19/18)
Lagging Fundraising Under Perez's Guidance As DNC Chair Has "Frustrated Democrats ." "The lag in Democratic Party fundraising through the first four months of new party Chairman Tom Perez's tenure has frustrated Democrats, especially as liberals see a groundswell of enthusiasm in opposition to President Trump." (Ben Kamisar, "RNC Raises Millions More Than DNC In July," The Hill , 8/19/17)
Seven Months Into His Tenure As DNC Chair, Perez Had Overseen Three Of The Worst Monthly Fundraising Reports For The Democratic Party Since President Obama Took Office. "Tom Perez has been chairman of the Democratic National Committee for about seven months. During that brief tenure, the committee has accounted for three of its 14 worst monthly fundraising reports since Barack Obama was elected president. And its latest month was its worst since Obama was inaugurated more than eight years ago." (Aaron Blake, "The DNC's Money Woes Persist," The Washington Post , 9/21/17)
Rep. Luis Gutierrez (D-IL) Attributed Perez's "Rocky Start" To His "Political Inexperience" And The "Controversial Manner In Which He Was Elected" And Said Perez Has "A Lot Of Room For Improvement ." "Rep. Luis Gutiérrez (D-Ill.) lamented what he considers Perez's rocky start. 'There's a lot of room for improvement," he said. He attributed Perez's struggles to both his political inexperience and the controversial manner in which he was elected." (Amie Parnes, "DNC Chief Attracts Criticism From Dem Insiders," The Hill, 10/12/17)
The DNC Raised A Total Of $67 Million In 2017. "The Democratic National Committee will report raising $5.2 million in December, bringing its total 2017 fundraising to $67 million, according to paperwork that will be filed Wednesday." (Edward Isaac- Dovere, "DNC Raises $67 Million In 2017, Half Of RNC's Haul," Politico , 1/30/18)
The DNC's Fundraising Numbers "Badly" Trailed Those Of The RNC Which Raised $132.5 Million In 2017. "It also badly trails the Republican National Committee, which raised $11.1 million in December for a 2017 total of $132.5 million." (Edward Isaac- Dovere, "DNC Raises $67 Million In 2017, Half Of RNC's Haul," Politico , 1/30/18)
The DNC Failed To Fundraise Even Half That Of The RNC In The First Month Of 2018, Bringing In $6.1 Million Compared To $12.4 Million By The RNC. "The DNC brought in more money than it did this time last year, but Democrats' $6 million January fundraising totals were still doubled by their Republican counterparts." (Scott Detrow, "One Year In, DNC Turnaround Has A Long Way To Go," NPR , 2/22/18)
Accounting For Its Debt, As Of January 2018, The DNC Still Has $1.8 Million Cash On Hand Compared To The RNC's $40.7 Million. ( Federal Election Commission , Accessed 2/21/18)
Julie Bykowicz Of The Wall Street Journal Called Attention To The DNC's Financial Demise On Twitter Saying "New Year, Same Money Struggles." (Julie Bykowicz, Twitter Feed , 2/21/18)
In January 2018, Politico's Ken Vogel Stated That The DNC Was "Teetering On The Brink Of Insolvency." (Ken Vogel, Twitter Feed , 1/31/18)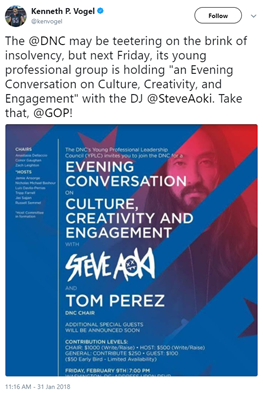 Perez Has Shown An Inability To Keep Fundraising And Outreach Promises To State Parties
State Party Chairmen Have Said "The New DNC Is Selling Hollow Promises" And "Its Flimsy 50-State Plan Is Built On Toothpicks." "But a number of state chairmen contend the party has learned from its mistakes and that Perez is on the right path. Those who worked for Dean in 2006 don't buy it. They say the new DNC is selling hollow promises and that its flimsy 50-state plan is built on toothpicks." (Laura Barron- Lopez, "Some Democrats Aren't Buying The DNC's New 50-State Strategy," The Washington Examiner , 2/4/18)
A Former DNC Official Called Perez's "Every Zip Code Counts" Strategy, "Empty Rhetoric" And Something That The DNC Is "Not Serious" About Doing. "Still, one former DNC official who worked for Dean during the 2006 cycle said, 'They're not serious about doing a 50-state strategy. It's something that rings nicely,' the official said, but added, 'It's empty rhetoric.'" (Laura Barron- Lopez, "Some Democrats Aren't Buying The DNC's New 50-State Strategy," The Washington Examiner , 2/4/18)
Perez Promised To Raise $10 Million For State Parties Through The Establishment Of A Competitive Grant Program Called The State Party Innovation Fund. " The DNC is also launching a State Party Innovation Fund, with $10 million earmarked for grants that state parties can compete for by organizing and modernizing; funds, according to the party, will be devoted to 'innovation, best practices and organizing in base, rural, millennial and youth communities, in addition to help with building technical infrastructure .'" (David Weigel, "DNC Invests Earlier In State Parties, Voter Persuasion," The Washington Post , 7/10/17)
A Former DNC Official Said "If You're Trying To Build Long-Term Infrastructure In The States, Grants Aren't The Effective Or Efficient Way To Do It." "The official argued that by choosing grants over putting state party staffers on the DNC's payroll, there's no real "sacrifice" being made by the DNC, and there's less accountability. Those in the state on the DNC's payroll during the Dean years got healthcare, a 401(k), and were expected to be there a minimum of two years. 'If you're trying to build long-term infrastructure in the states, grants aren't the effective or efficient way to do it,' said the former DNC official." (Laura Barron- Lopez, "Some Democrats Aren't Buying The DNC's New 50-State Strategy," The Washington Examiner , 2/4/18)
As Of January 19, 2018, The DNC Had Yet To Deliver Millions It Promised To State Parties And The DNC Did Not Even Have $10 Million Cash On Hand. "That money hasn't arrived. In fact, the DNC didn't even have $10 million on hand as of November 30 and declined to comment on whether it had the money now. And even if it did, it wouldn't distribute the money right away, frustrating state party officials who are anxious about the coming midterm elections and describe the effort to rebuild as slow and halting." (Alex Thompson, "The DNC Promised $10M To Rebuild State Parties. It Has Not Delivered," Vice News , 1/19/18)
Only 1 Of About 24 State Parties Who Submitted Proposals For Grants From The DNC Had Received Money. "So far only one state, Washington, has received a grant from the $10 million State Party Innovation Fund while about 24 other states that submitted grant proposals are waiting. At least 10 other states are mired in lengthy performance reviews the national party is conducting in each state, which the DNC is using to inform their grant disbursement." (Alex Thompson, "The DNC Promised $10M To Rebuild State Parties. It Has Not Delivered," Vice News , 1/19/18)
State Parties Began Reorganizing Their Budgets Once They Realized They Would Not Be Getting Money Promised To Them By The DNC. "In some states, leaders were under the impression they would be getting money and began planning how to invest it. Now have had to reorganize their budgets, said multiple Democrats." (Gabriel Debenedetti, "Local Democrats Warn DNC: Cash Crunch Threatens November Gains," Politico , 1/27/18)
On January 24, 2018, The DNC Began To Grant Funds To A Handful Of State Parties. "The Democratic National Committee will begin doling out $1 million among 11 state parties as part of its $10 million State Party Innovation Fund, a party spokesperson confirmed on Wednesday." (Alex Thompson, "The DNC Is Finally Sending Money To State Democratic Parties After 7 Months," Vice News , 1/24/18)
The DNC Announced That They Would Be Awarding 10% Of The Funds Initially Promised To A Handful Of State Parties. "The Democratic National Committee will distribute $1 million to 11 state parties from its new State Party Innovation Fund, days after questions about the grant process spilled into public view." (David Weigel, "DNC Begins Sending 'Innovation' Grants To State Parties, Following Criticism Of Process," The Washington Post , 1/24/18)
After Democrat Doug Jones Won The Special Election For Senate In Alabama, The DNC Claimed To Have Spent $1 Million On The Race. "Despite publicly remaining mum on the race, the Democratic National Committee spent nearly $1 million on the contest while dispatching and funding 30 aides here, a party official told POLITICO. That push came just as Jones sought to distance himself from the national party and win over conservatives." (Gabriel Debenedetti, "DNC Waged Stealth Organizing Campaign For Jones," Politico , 12/12/17)
But In Fact, The DNC Actually Spent $250,000 In The Alabama Senate Race. "Now, faced with documentation that questions the claim, DNC officials say the committee spent only $250,000 of its own money on the race, cash that funded more than two dozen staffers on the ground in the state who, among other things, conducted extensive outreach to African-American voters. The rest - nearly three-quarters of the total funds originally claimed - was not a direct injection of DNC money but instead cash the DNC raised on behalf of Jones through email solicitations." (Alex Roarty, "DNC Spending To Defeat Roy Moore Draws Scrutiny," McClatchy , 2/1/18)
PEREZ'S POOR BEHAVIOR
Perez's Perpetual Potty Mouth
Perez Has Continuously Used Profanity Since Taking Over The Chairmanship, Including Once With Children On The Stage Behind Him. "Swearing has become such a part of Democratic stump speeches that profane clips have become routine in Democratic National Committee Chairman Tom Perez's speeches. With children on stage behind him, Perez told an audience in Las Vegas this weekend that Trump 'doesn't give a shit about health care.'" (Dan Merica, "Sh*t Talking Is Democrats' New Strategy," CNN , 4/24/17)
Perez Claimed That "Republican's Don't Give A Sh*t About You." TOM PEREZ: "Here's what I don't understand about Donald Trump and the Affordable Care Act. You know what folks? He wants to brand everything. You can go to the store and find Trump Steaks... Trump ties, Trump suits, the Trump Hotel, but he didn't want the Affordable Care Act branded after him. I don't know what to call it. Trumpcare? Ryancare? I'll tell you what I'd call it. I don't care. Because those Republican leaders and President Trump don't give a shit about the people they were trying to hurt." (Tom Perez, Remarks At Unity Rally, Portland, ME, 4/17/17)
Perez Called President Trump's Spending Proposals "A Sh*tty Budget" While At A Tour Stop In Maine. "Kicking off an eight-state 'Come Together and Fight Back' speaking tour alongside Senator Bernie Sanders in Portland, Maine last week, Perez turned to the president's spending proposals-'They call it a 'skinny budget.' I call it a shitty budget.' By Thursday, the shop at Democrats.org was selling 'Democrats give a sh*t about people' shirts." (Alex Caton, "Why Democrats Are Dropping More F-Bombs Than Ever," Politico , 4/24/17)
Despite Perez's Ongoing Call For Unity, His Removal Of Long Time DNC Members Who Supported Bernie Sanders Demonstrates His Disregard For The Progressive Side Of The Party
Perez Removed A Slate Of Bernie Supporters From Their Long Time Positions Within The DNC And Replaced Them With Lobbyists. "Democratic National Committee Chairman Tom Perez has stripped a number of longtime party officials of their 'at-large' delegate status or leadership positions, while appointing a slate of 75 new members that include Clinton campaign veterans, lobbyists, and neophytes." (Abigail Tracy, "D.N.C. Chair Purges Dissenters In Surprise Shake-Up," Vanity Fair , 10/19/17)
Some Of The Lobbyists Appointed To New DNC Seats Include Media Moguls, Clinton Veterans, And Oil Patrons. "To add insult to injury, Perez also tapped several individuals who have lobbying or corporate-interest backgrounds-a move that has sparked criticism in the past. The pack of new delegates includes Joanne Dowdell, a registered lobbyist for Fox News parent company News Corp; Harold Ickes, a veteran of the Clinton White House; and Manuel Ortiz, a lobbyist for CITGO Petroleum Corp and Puerto Rican interests. At least 10 additional Perez-tapped superdelegates have previously been registered as lobbyists, Bloomberg reports." (Abigail Tracy, "D.N.C. Chair Purges Dissenters In Surprise Shake-Up," Vanity Fair , 10/19/17)
Those Veteran DNC Members Let Go By Perez Saw Their Termination As A Move Directly In Opposition To Any Unifying Action For The Party. "Those ousted include Ray Buckley, James Zogby, Alice Germond, and Barbara Casbar Siperstein, NBC News reports. 'I'm concerned about the optics, and I'm concerned about the impact,' Zogby said of the D.N.C. shake-up. 'I want to heal the wound of 2016.' Germond, too, noted that the move does not bode well for the party's quest to unify its progressive and establishment wings. 'It is quite unusual for a former party officer who has been serving on the D.N.C. for forever to just be left out in the cold without even a call from the chairman,' she told NBC News." (Abigail Tracy, "D.N.C. Chair Purges Dissenters In Surprise Shake-Up," Vanity Fair , 10/19/17)
Bernie Supporters See The DNC As Being "On A Mission To Crush The Working Side" Of The Party. "The activists say the committee appointments show Perez's DNC is not serious about addressing concerns of the party's populist wing. 'After looking at that list, it has become abundantly clear that the controlling forces of the Democratic Party want to make the other half of the party suffer,' said Nomiki Konst, a convention delegate for Sen. Bernie Sanders (I-VT).'The DNC is not tone-deaf ― it is on a mission to crush the working side of our party,' added Konst, now an investigative reporter for the Young Turks who did not endorse a candidate in the DNC chair race." (Daniel Marans, "Progressives Slam Tom Perez's New DNC Transition Team," The Huffington Post , 3/16/17)
Winnie Wong, A Founder Of The People For Bernie Sanders Said "The Real Absence Of Bernie Grassroots Leadership Is Unsurprising To Me." "'The real absence of Bernie grassroots leadership is unsurprising to me,' Winnie Wong, a founder of the People for Bernie Sanders, said in an email. 'What the DNC doesn't know is that we are both resourceful and well resourced, so we'll be doing the work: organizing, RECRUITING, knocking on doors, building up our giant email lists and generally running the internet in a way that the Ds could only dream about.'" (Daniel Marans, "Progressives Slam Tom Perez's New DNC Transition Team," The Huffington Post , 3/16/17)
Perez's "Unity Tour" With Senator Bernie Sanders (I-VT) Proved Only To Exacerbate Existing Divisions Within The Democratic Party
CNN Headline: "Democrats' 'Unity Tour' Is Highlighting Their Many Divisions." (Gregory Krieg, "Democrats' 'Unity Tour' Is Highlighting Their Many Divisions," CNN , 04/21/17)
CNN Headline: "Sanders, Perez Unity Tour Is Off To A Bumpy Start." (Miranda Green and Eli Watkins, "Sanders, Perez Unity Tour Is Off To A Bumpy Start," CNN , 4/19/17)
Perez's Unity Tour With Sanders Was "Painfully Awkward" As He Was Often Heckled By The Crowds. "That's why Perez spent last spring on a national tour with Sanders that was, at times, painfully awkward. He wanted Sanders supporters to know the DNC was there to listen to them, even if that meant listening to heckles." (Scott Detrow, "One Year In, DNC Turnaround Has A Long Way To Go," NPR , 2/22/18)
At The Kick Off Event For The Tour, The Audience Cheered For Sanders And Booed The DNC. " The early returns have not been promising. At a kick-off event in Maine on Monday, the audience roared for Sanders and booed at the mention of the DNC." (Gregory Kreig, "Democrats' 'Unity Tour' Is Highlighting Their Many Divisions," CNN , 4/21/17)
During Day Two Of The DNC's "Unity Tour," Sanders Reiterated The Fact That He "Does Not Consider Himself A Democrat." "Sen. Bernie Sanders (I-VT) said Tuesday night that he still does not consider himself a Democrat despite taking part in a Democratic National Committee (DNC) unity tour with the party's new chairman, Tom Perez. 'No, I'm an Independent,' Sanders said when asked by MSNBC's Chris Hayes whether he now identifies as a Democrat." (Ben Kamisar, "Sanders: I Don't Consider Myself A Democrat," The Hill , 4/18/17)
The Washington Post's Aaron Blake Pointed Out That On The "Come Together And Fight Back" Tour, "He [Sanders] Is Not Really Helping On That First Part." "Bernie Sanders has embarked on a 'Come Together and Fight Back' tour with Democratic National Committee Chairman Tom Perez. But he's not really helping on that first part." (Aaron Blake, "Bernie Sanders's Strange Behavior," The Washington Post , 04/20/17)
However, While On The Road, Sanders Could Not Hold Back From Critiquing The Democratic Party- Calling For It To "Better Represent" The Working Class, Rather Than Just The "Liberal Elite." "The alliance remains an uneasy one. After Tom Perez defeated the Sanders-backed Keith Ellison to become chairman of the Democratic National Committee, Perez extended an olive branch by heading out with Sanders on a so-called unity tour. Even while on the road, Sanders did not avoid critiquing the party and calling for it to better represent the working class rather than the liberal elite." (Jason Le Miere, If Bernie Sanders Wants To Win 2020 Election, He Needs To Control His Supporters, Democrats Say," Newsweek , 9/8/17)
Perez Has Not Kept His Word On Party Reforms And Efforts Towards Unity To The Progressive Wing Of The Party
Perez Promised To "Implement The Unity Commission Recommendations." "Implement the Unity Commission recommendations." ("Tom's Vision," Tomperez.org, Accessed 2/13/18)
Former Interim DNC Chairwoman Donna Brazile Said The Unity Reform Commission Would "Strengthen The Democratic Party" Because "Everyone Is At The Table." "The DNC has worked with Sanders and Clinton campaign representatives to propose changes to future presidential primaries, and Brazile credits that Unity Commission's work. 'The good news is that everyone is at the table,' she said. 'They have agreed on a set of priorities and reform initiatives that will strengthen the Democratic Party, that will make the party more competitive at the state and local levels.'" (Scott Detrow, "One Year In, DNC Turnaround Has A Long Way To Go," NPR , 2/22/18)
The DNC Unity Reform Commission Outlined A List Of Reforms To Improve The Party's Nominating Process, Which Some Contend Is Currently Plagued With "Anti-Democratic Features." "The reform slate, negotiated by a Unity Reform Commission [URC] created during the 2016 Democratic National Convention in Philadelphia, address the most glaring anti-democratic features of the party's last presidential nominating contest." (Steven Rosenfeld, "Bernie Sanders Supporters Aren't Exactly Getting What They Were Hoping For Out Of The DNC," Salon , 2/5/18)
Anger In The "Berniecrat" Wing Of The Party Has Mounted As The DNC Has Yet To Adopt The Reforms Put Forth By The Commission. "The looming conflict concerns the pace and process for bringing these reforms before the entire Democratic National Committee, which would then vote to adopt or reject them. In short, the grassroots-led Berniecrat wing wants the reforms adopted as a package without further delay or modifications. In contrast, longtime party officials say the package is moving through a standard process, where they will next be vetted by the party's Rules and Bylaws Committee (RBC). That panel will decide whether to amend them, before presenting them to the full DNC for a vote." (Steven Rosenfeld, "Bernie Sanders Supporters Aren't Exactly Getting What They Were Hoping For Out Of The DNC," Salon , 2/5/18)
Our Revolution, A Group Headed By Sanders' Campaign Leaders, Issued A Statement Calling On The DNC To Implement The Reforms Immediately. "On Friday, Our Revolution, the campaign organization up by the Sanders' campaign's leaders, sent out an email launching a campaign and pushing for swift action to adopt them as-is. 'We've come a long way since the Unity Reform Commission was unanimously adopted by 4,500 Democratic convention delegates in Philadelphia,' the e-mail said, signed by the eight Sanders-appointed members of the URC. 'Recently, DNC's Rules and Bylaws Committee took up the URC's final recommendations… Our mandates are not aspirations. They have already been debated and negotiated. The DNC should adopt and implement these reforms.'" (Steven Rosenfeld, "Bernie Sanders Supporters Aren't Exactly Getting What They Were Hoping For Out Of The DNC," Salon , 2/5/18)
James Roosevelt, Jr., A Member Of The Reform Commission And Co-Chair Of The DNC's Rules And Bylaws Committee, Said The DNC Would Evaluate The URC's Recommendations And Likely Implement What It Finds Best. " However, Roosevelt did not think the reforms were going to be presented in a 'take it or leave it manner,' where, for example, super delegate reform would have to accompany caucus and primary reforms - or else nothing would be done. He also emphasized the full DNC's charge when it created the reform commission was to reduce the super delegate representation." (Steven Rosenfeld, "Bernie Sanders Supporters Aren't Exactly Getting What They Were Hoping For Out Of The DNC," Salon , 2/5/18)
Perez Flip-Flopped On Abortion, Only To Be Contradicted By Democratic Leadership
In April, Perez Said That The Democratic Party Should Not "Demand Fealty On Every Issue" Including Abortion. "In April, Perez suggested that the Democratic Party should not 'demand fealty on every issue,' including abortion." (Claire Foran, "What Pro-Life Democrats Want From The DNC," The Atlantic , 6/28/17)
He Quickly Backtracked After Being Criticized By NARAL And "Issued A Statement That Was Widely Viewed Within The Party As A Litmus Test On Abortion." "Not long after, however, NARAL Pro-Choice America criticized the DNC over its support for a Nebraska mayoral candidate who identified as 'personally pro-life' as 'not only disappointing' but 'politically stupid.' NARAL president Ilyse Hogue said in a statement that 'if Democrats think the path forward following the 2016 election is to support candidates who substitute their own judgment and ideology for that of their female constituents, they have learned all the wrong lessons and are bound to lose.' Following that backlash, Perez issued a statement that was widely viewed within the party as a litmus test on abortion. 'Every Democrat, like every American, should support a woman's right to make her own choices about her body and her health' the chair. 'That is not negotiable and should not change city by city or state by state." (Claire Foran, "What Pro-Life Democrats Want From The DNC," The Atlantic , 6/28/17)
Perez Said, "Every Democrat, Like Every American, Should Support A Woman's Right To Make Her Own Choices About Her Body And Her Health." "Perez was basically declaring that a position held by 1 in 5 or 1 in 4 Democrats and lots of blacks and Hispanics is not a valid position in his party. 'Every Democrat, like every American, should support a woman's right to make her own choices about her body and her health,' he said." (Aaron Blake, "Democrats' Self-Inflicted Abortion Problem," The Washington Post , 4/24/17)
Perez Noted That While He Respects Pro-Life Candidates' "Personal Beliefs," The DNC Will "Take Them On" If They Attempt To Legislate Or Govern That Way. "In an interview on Friday, Mr. Perez further toughened his language, saying he respected those Democrats who 'have personal beliefs' against abortion rights but warning them not to pursue such policies in office. 'If they try to legislate or govern that way, we will take them on,' he said." (Jonathan Martin, "At A 'Unity' Stop In Nebraska, Democrats Find Anything But," The New York Times , 4/21/17)
House Minority Leader Nancy Pelosi (D-CA) Rebuffed Him, Highlighting The Party's Struggle Over Whether They Should Demand Ideological Purity. "Over the weekend, Democratic National Committee Chairman Thomas Perez drew a line against supporting any candidates who oppose abortion rights, only to have House Minority Leader Nancy Pelosi (D-Calif.) rebuff him. And the split says plenty about Democrats' struggles to unify behind any cohesive political strategy -- specifically, whether to embrace purity or pragmatism." (Aaron Blake, "Democrats' Self-Inflicted Abortion Problem," The Washington Post , 4/24/17)
Senate Minority Leader Chuck Schumer Supported Rep. Nancy Pelosi's Comments Saying "We're A Big Tent Party" And Highlighted His Support For Pro-Life Catholic Senator Bob Casey. MSNBC's JOE SCARBOROUGH: "Yesterday, Nancy Pelosi said forget all the nonsense you're hearing, yes, we want pro-life Catholics in our party, and if they run, we can support them. You certainly showed that in Pennsylvania, that a pro-life Catholic." SEN. CHUCK SCHUMER (D-NY): "Oh, I got killed. I got criticized." SCARBOROUGH: "You got killed, but he's still the senator in Pennsylvania." SCHUMER: "And a great senator." SCARBOROUGH: "That's still a vote your way." SCHUMER: "You bet. Look, we're a big tent party as Nancy Pelosi said, but we are - let's make no mistake about it, we're a pro-choice party. We're a strongly pro-choice party. We think that's where the American people are and, in fact, if anything, are moving even more in that direction." (MSNBC's "Morning Joe," 4/24/17)
Chair Of The Nebraska Democratic Party, Jane Kleeb Said "Pro-Life Democrats Need To Be Welcomed Into Our Party" And Knocked Perez For Putting Democratic Leaders "In A Very Difficult Position." "'Pro-life Democrats need to be welcomed into our party,' said Jane Kleeb, the Nebraska Democratic Party Chair and a board member of Our Revolution, the group that formed out of the embers of the Bernie Sanders presidential campaign. Kleeb added that 'Tom Perez put every Democrat who is leading our party at the nationwide and statewide level in a very difficult position' by issuing a statement 'that is now being interpreted as him saying he does not accept pro-life Democrats in the party.'" (Clare Foran, "Is There Any Room In The 'Big Tent' For Pro-Life Democrats?" The Atlantic , 4/27/17)
DNC DEPUTY CHAIRM KEITH ELLISON HAS ALSO EMBARRASSED THE DEMOCRATIC PARTY WITH INFLAMMATORY RHETORIC AND INCENDIARY LANGUAGE
DNC Deputy Chairman Keith Ellison's Extreme Positions Have Been On Full Display For Everyone To See
DNC Deputy Chair Rep. Keith Ellison (D-MN) Said Murderous North Korean Dictator Kim Jong Un Was "More Responsible" That President Trump. ELLISON: "North Korea is a serious thing. You have this guy [Trump] making bellicose threats against somebody else who has very little to lose over there. Kim Jong Un, the world always thought he was not a responsible leader? Well he's acting more responsible than this guy [Trump] is. And what I'm telling you is once you start seeing missile launches you're going to see the time for cranking up the anti-war machine is right now. So if you don't want to get caught deer in the head lights start calling for diplomacy in North Korea immediately." (Keith Ellison, Statements At Netroots Nation Conference, Atlanta, GA, 8/11/17)
Ellison Compared Not Giving Sanctuary To Illegal Immigrants To Not Helping Jews In Nazi Germany. ELLISON: "I heard today as many as 3 million DACA recipients live with someone who is a citizen of the United States. Add that to the people who work with a DACA recipient. Add that to the people who are the parent of a DACA recipient. Add that to people who are parents of American citizens. You are literally talking about over 100 million Americans. Who are in some way - way more than 100 million, maybe well over that, who are deeply connected with people who have immigrated to the United States. Some with official papers some with none. So this is not someone else's fight. This is all of our fight. But some people are in the bullseye and others of us are not exactly the target. Therefore, it is our responsibility to stand up, fight, and do the right thing. And I'm going to tell you right now, I am one of the people who believes we should give our neighbors sanctuary. If you ask yourself, 'What would I do if I was a Gentile in 1941 if my Jewish neighbors were under attack by the Nazis? Would I give them sanctuary?' - you might be about to find out what you would do. Will you pass that moral test or will you fail it? This is a time for people who truly have faith and belief in their heart to get up and demonstrate it." (Keith Ellison, Remarks At Beyond DACA Event, Minneapolis, MN, 9/18/17)
On January 3, 2018 Ellison Posted A Photo To Twitter Posing With An Antifa Handbook. (Keith Ellison, Twitter Feed , 1/3/18)
Antifa Is A Far Left Political And Social Movement Made Up Of Communists, Socialists, And Anarchists Who Believe In Taking Justice Into Their Own Hands Rather Than Leaving It To The Police. "Militant anti-fascist or "antifa" (pronounced ANtifa) is a radical pan-leftist politics of social revolution applied to fighting the far right. Its adherents are predominantly communists, socialists and anarchists who reject turning to the police or the state to halt the advance of white supremacy. Instead they advocate popular opposition to fascism as we witnessed in Charlottesville." (Mark Bray, "Who Are The Antifa?" The Washington Post , 8/16/17)
Antifascists Belonging To The Antifa Group Believe Violence Is Justifiable. " Antifascists argue that after the horrors of chattel slavery and the Holocaust, physical violence against white supremacists is both ethically justifiable and strategically effective." (Mark Bray, "Who Are The Antifa?" The Washington Post , 8/16/17)
Ellison Has Refused To Fully Explain His Relationship With Louis Farrakhan. WOLF BLITZER: "What exactly is your relationship with Farrakhan?" ELLISON: "No relationship. My political opponents keep pushing this out there in order to try to smear and distract from the key issues. But there's no relationship Wolf. I mean, look, I have a clear record I have always fought for equal rights for all people. I will continue to do so. I've always denounced and been a fierce opponent of antisemitism and will continue to do so. But in this political environment, Wolf, you can expect people to try to say anything they want to try to distract from the core issues." (CNN's "The Situation Room With Wolf Blitzer," 2/22/18)
Ellison's Long Standing Relationship With The Anti-Semitic Leader Of The Muslim Brotherhood, Louis Farrakhan, Has Continually Been Questioned By The Media With Some Saying Ellison Isn't "Telling The Full Story." "When Rep. Keith Ellison ran for Democratic National Committee chairman, he faced questions about past associations with the Nation of Islam and Louis Farrakhan. On MSNBC's 'Morning Joe' in December 2016, Mr. Ellison angrily accused his critics of a 'smear campaign' for 'talking about something that happened in 1995,' when Mr. Ellison was 32. It turns out Mr. Ellison-who lost his bid but is now the DNC's deputy chairman-wasn't telling the full story." (Jeryl Bier, Op-Ed, "Keith Ellison, Louis Farrakhan And Iran," The Wall Street Journal , 2/8/18)
---
Elections
DNC