At Least 15 Times Where The Candidate's Public Statements And Leaked Emails Haven't Matched
---
TOP TAKEAWAYS
---
In 2013, Clinton Said Behind Closed Doors That In Order To Be "Successful, Politically" You Need To Have "Both A Public And Private Position" On Public Policy. CLINTON: "You just have to sort of figure out how to - getting back to that word, 'balance' - how to balance the public and the private efforts that are necessary to be successful, politically, and that's not just a comment about today. That, I think, has probably been true for all of our history, and if you saw the Spielberg movie, Lincoln, and how he was maneuvering and working to get the 13th Amendment passed, and he called one of my favorite predecessors, Secretary Seward, who had been the governor and senator from New York, ran against Lincoln for president, and he told Seward, I need your help to get this done. And Seward called some of his lobbyist friends who knew how to make a deal, and they just kept going at it. I mean, politics is like sausage being made. It is unsavory, and it always has been that way, but we usually end up where we need to be. But if everybody's watching, you know, all of the back room discussions and the deals, you know, then people get a little nervous, to say the least. So, you need both a public and a private position. And finally, I think - I believe in evidence-based decision making. I want to know what the facts are. I mean, it's like when you guys go into some kind of a deal, you know, are you going to do that development or not, are you going to do that renovation or not, you know, you look at the numbers. You try to figure out what's going to work and what's not going to work." (TCARRK@HillaryClinton.com, Speech For National Multi-Housing Council, 4/24/13, Email To Clinton Campaign Communications Staff, 2/8/16)
#1: BEHIND CLOSED DOORS, CLINTON WAS MORE THAN HAPPY TO PRAISE THE TRANS PACIFIC PARTNERSHIP (TPP) THAT SHE CLAIMS SHE HAS NEVER SUPPORTED
PRIVATE CLINTON: Praise And Support For Passage Of TPP
In A 2014 Closed Door Speech, Clinton "Praised TPP," Saying The U.S. Was Working With TPP Countries To "Expand Responsible Trade And Economic Cooperation." "Hillary Clinton Praised TPP. 'Greater connections in our own hemisphere hold such promise. The United States and Canada are working together with a group of open market democracies along the Pacific Rim, Mexico, Colombia, Peru, Chile, to expand responsible trade and economic cooperation.' [Canada 2020 Speech, 10/6/14]" (Tony Carrk, Email To John Podesta, Et. Al., "HRC Paid Speeches," John Podesta Wikileaks, 1/25/16)
In A February 2015 Email Exchange Regarding Then Ongoing Conversations Between Clinton Aides And Aides To Elizabeth Warren, Robby Mook Noted That Warren's Staff Understood Clinton Was On The Record Supporting TPP And Didn't "Have A Ton Of Room To Maneuver." "Just talked w Mindy. Good convo. She said she's been getting really good feedback about Dan's outreach--she said she knows we are talking to the people they suggested and they really like Dan. So good work, Schwerin! We should think about going back to them when we've isolated one or two ideas and getting more input on those (without showing our cards, obviously)...will probably be in our interest for them to have a sense of where we're headed before HRC delivers to the public. Also, she flagged that they're going to push back hard against POTUS on trade. She understood that HRC was already on the record as his SOS so we don't have a ton of room to maneuver." (Robby Mook Email To Huma Abedin, et al., "Elizabeth Warren/HRC Meeting ," John Podesta WikiLeaks, 2/17/15)
In An April 2015 Email Exchange, Doug Schwerin Proposed A Statement Clarifying Hillary's Stance On Trade; Jake Sullivan Responded Asking "Do We Need A Sentence Acknowledging Her Prior Support For TPP?" "One thought: do we need a sentence acknowledging her prior support for TPP? Hillary has been on record in favor of an outcome that meets both these tests. But we should be willing to walk away from an outcome that falls short. Or Robby is that a problem?" (Jake Sullivan To Doug Schwerin Et. Al., "Re: Trade Statement," John Podesta Wikileaks, 4/16/15)
On A June 2015 E-Mail Chain Discussing Clinton's Official Response To The Passage Of Trade Promotion Authority (TPA), Senior Campaign Aides Edited Clinton's Statement To Downplay Her Connection To TPP. "INTEGRAL PART OF TPP. vs 'OUR' APPROACH." (Amanda Renteria, Email To John Podesta, Et. Al, "Re: Proposed Response On Senate TPA Vote," John Podesta Wikileaks, 6/23/15)
PUBLIC CLINTON: Claim s That She Was Never In Favor Of TPP
On The Campaign Trail, Clinton Claims She Never Supported TPP, Saying That She "Was Holding Out Hope" That She Could Support It. CLINTON: "I did hope that the TPP, negotiated by this administration, would put to rest a lot of the concerns that many people have expressed about trade agreements. And I said that I was holding out that hope that it would be the kind of trade agreement that I was looking for. I waited until it had actually been negotiated because I did want to give the benefit of the doubt to the administration. Once I saw what the outcome was, I opposed it." (Hillary Clinton, Remarks At A Democrat Presidential Debate , Durham, NH, 2/4/16)
#2: CLINTON'S CAMPAIGN PRAISED THE U.S.-SOUTH KOREA FREE TRADE AGREEMENT, BUT HAS TRIED TO DISTANCE ITSELF IN PUBLIC
PRIVATE CLINTON: Praise And Support For The U.S.-South Korean Free Trade Agreement
In An October 2015 Draft Campaign Statement On The Trans-Pacific Partnership, Clinton's Campaign Team Described The U.S. - South Korea Free Trade Agreement As "A Strong Deal." "First, too often over the years we haven't gotten the balance right on trade. We've seen that even a strong deal, like our agreement with South Korea, which President Bush negotiated and President Obama improved, can fall short on delivering the promised benefits. So I don't believe we can afford to keep giving new agreements the benefit of the doubt. The risks are too high that, despite our best efforts, they will end up doing more harm than good for hard-working American families whose paychecks have barely budged in years." (Dan Schwerin, Email To Jake Sullivan, Et Al., "Re: TPP Statement," John Podesta WikiLeaks, 10/07/15)

PUBLIC CLINTON: The U.S.-Korea Free Trade Agreement Has Not Lived Up To Its Hype
Last Year, Clinton Came Out In Opposition To The U.S.-Korea Free Trade Agreement, Saying "It Doesn't Have The Results We Thought It Would In Terms Of Access To Market, More Exports, Et. Cetera." CLINTON: "I think that there are still a lot of unanswered questions, but for me, it really comes down to those three points that I made, and the fact that we've learned a lot about trade agreements in the past years. Sometimes they look great on paper. I know when President Obama came into office, he inherited a trade agreement with South Korea. I, along with other members of the Cabinet, pushed hard to get a better agreement. We think we made improvements. Now looking back on it, it doesn't have the results we thought it would have in terms of access to the market, more exports, et cetera." (PBS's "News Hour," 10/7/15)
#3: BEHIND CLOSED DOORS, CLINTON SAID SHE WANTED TO "DEFEND FRACKING" BUT IN PUBLIC SHE SAID SHE WANTS TO REGULATE IT TO DEATH
PRIVATE CLINTON: Support For Natural Gas Fracking
In A Closed Doors Speech, Clinton Told Building Trades Union Members That "I Want To Defend Natural Gas…I Want To Defend Fracking Under The Right Circumstances." CLINTON: "It's symbolic and it's not going to go away. They're all hanging on to it. So you know Bernie Sanders is getting lots of support from the most radical environmentalists because he's out there every day bashing the Keystone pipeline. And, you know, I'm not into it for that. I've been-- my view is I want to defend natural gas. I want to defend repairing and building the pipelines we need to fuel our economy. I want to defend fracking under the right circumstances." (Varun Anand, E-Mail To Jennifer Palmieri, Et. Al., "20150909 Transcript Building Trades Union (Keystone XL)," John Podesta Wikileaks, 9/9/15)
​
PUBLIC CLINTON: She Would Virtually Eliminate Fracking As President
During A March 2016 Democratic Debate, Clinton Said Fracking Was "Not Sufficiently Regulated," And Under A Clinton Presidency, There Wouldn't "Be Many Places In America Where Fracking Will Continue To Take Place." CLINTON: "So by the time we get through all of my conditions, I do not think there will be many places in America where fracking will continue to take place. And I think that's the best approach, because right now, there are places where fracking is going on that are not sufficiently regulated. So first, we've got to regulate everything that is currently underway, and we have to have a system in place that prevents further fracking unless conditions like the ones that I just mentioned are met." (Hillary Clinton, CNN Democratic Primary Debate, Flint, MI, 3/6/16)
#4: CLINTON'S CAMPAIGN TRIED TO SHOW SUPPORT FOR RAISING THE MINIMUM WAGE WITHOUT ACTUALLY GIVING A NUMBER
PRIVATE CLINTON: Let's Publicly Dodge On A $15 Hourly Minimum Wage
In An April 2015 Email, Ann O'Leary Asked Whether The Campaign Could Show Support For Efforts To Raise The Minimum Wage "Without Coming Out For A Number." "When I spoke at the Democracy Alliance today, a number of our friends came up to say that they hope to see HRC put out something supportive on '4-1' in the Fight for $15. Of course, they most want us to come out for $15, but absent that they expect that she tweets support for their efforts. SEIU is also using this opportunity to roll-out their child care campaign push for $15 for child care workers. Can we do something creative to support efforts without coming out for a number?" (Ann O'Leary Email To Nick Merrill, et al.," "Wage Effort Poses Test for Clinton Campaign - NYTimes.com," John Podesta WikiLeaks, 4/14/15)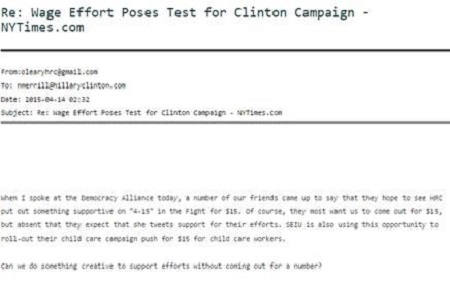 The Same Month, Neera Tanden Told Senior Campaign Staff "Substantively, We Have Not Supported [A] $15 [Minimum Wage]," Citing "Liberal Economists Who Will Say It Will Lose Jobs." "Substantively, we have not supported $15 - you will get a fair number of liberal economists who will say it will lose jobs. Most of rest seems fine (obviously trade sticks out). Politically, we are not getting any pressure to join this from our end. I leave it to you guys to judge what that means for you. But I'm not sweating it." (Neera Tanden, Email To John Podoesta, Et. Al., "Re: Email We Are Sending Out Today," John Podesta Wikileaks, 4/28/15)
Policy Adviser Jake Sullivan Then Characterized Those Who Support A $15 Minimum Wage As "The Red Army." "John Podesta (and the Red Army) want to support $15!" (Jake Sullivan, Email To John Podoesta, Et. Al., "Re: Email We Are Sending Out Today," John Podesta Wikileaks, 4/28/15)
PUBLIC CLINTON: Support For A $15 Hourly Minimum Wage
In An April 2016 Primary Debate, Clinton Said She Would Sign A $15 An Hour Federal Minimum Wage Bill If She Were Presented With One As President, Claiming "I Have Supported 'The Fight For 15.'" CNN'S WOLF BLITZER: "You stood on the stage with Governor Cuomo in support of new legislation to raise New York's minimum wage to $15 an hour, but you do not support raising the federal minimum wage to $15 an hour. As president, if a democratic congress put a $15 minimum wage bill on your desk, would you sign it?" CLINTON: "Of course I would. I have supported the 'fight for 15.' I'm proud to have the endorsement of most of the unions that have led the 'fight for 15.' I was proud to stand on the stage with Governor Cuomo, with SEIU, and others who have been leading this, and I will work as hard as I can to raise the minimum wage. I always have. I supported that when I was in the senate, but what I have also said is we've got to be smart about it. Just the way Governor Cuomo was here in New York. If you look at it, we moved more quickly to 15 in New York City, more deliberately toward 12, 12.50, upstate, then to 15. That is exactly my position, it's a model for the nation. That's what I will do as president. Go as quickly as possible to get to 15." (Hillary Clinton, Democratic Debate, Brooklyn, New York, 4/14/16)
#5: CLINTON HAS TOLD WALL STREET THAT "THE PEOPLE WHO WORK IN THE INDUSTRY" WOULD BE THE BEST AT REGULATION BUT HAS TAKEN A TOUGH STANCE IN PUBLIC
PRIVATE CLINTON: Staunch Support For And Praise Of Wall Street Bankers
Talking About The "Golden Key" To Regulating Wall Street, Clinton Said The "People Who Know [Wall Street] Better Than Anybody Are The People Who Work In The Industry." CLINTON: "I mean, it's still happening, as you know. People are looking back and trying to, you know, get compensation for bad mortgages and all the rest of it in some of the agreements that are being reached. There's nothing magic about regulations, too much is bad, too little is bad. How do you get to the golden key, how do we figure out what works? And the people that know the industry better than anybody are the people who work in the industry. And I think there has to be a recognition that, you know, there's so much at stake now, I mean, the business has changed so much and decisions are made so quickly, in nano seconds basically. We spend trillions of dollars to travel around the world, but it's in everybody's interest that we have a better framework, and not just for the United States but for the entire world, in which to operate and trade." (Tony Carrk, Email To Jennifer Palmieri, "HRC Paid Speeches," John Podesta Wikileaks, 1/25/16)
Clinton Said That It Is Up To "The Industry Itself," Referring To Wall Street, To "Strengthen Our Economy." CLINTON: "Remember what Teddy Roosevelt did. Yes, he took on what he saw as the excesses in the economy, but he also stood against the excesses in politics. He didn't want to unleash a lot of nationalist, populistic reaction. He wanted to try to figure out how to get back into that balance that has served America so well over our entire nationhood. Today, there's more that can and should be done that really has to come from the industry itself, and how we can strengthen our economy, create more jobs at a time where that's increasingly challenging, to get back to Teddy Roosevelt's square deal. And I really believe that our country and all of you are up to that job." (Tony Carrk, Email To Jennifer Palmieri, "HRC Paid Speeches," John Podesta Wikileaks, 1/25/16)
PUBLIC CLINTON: Pledge To Crack Down On Wall Street With Tougher Government Regulation
Clinton Has Promised To "[Impose] Tougher Constraints On The Biggest Banks" In Order To Reduce "Dangerous Risk-Taking." "Tackling dangerous risk-taking in the financial sector starts with imposing tougher constraints on the biggest banks. But it also requires constraining risk beyond banks. In fact, the crisis itself demonstrated that serious risks could emerge from institutions and activities in the so-called 'shadow banking' system, which often receives little prudential oversight at all. That's why Clinton would implement a comprehensive plan to tackle excessive risk wherever it appears." (Press Release, "Hillary Clinton: Wall Street Should Work For Main Street," Hillary For America's The Briefing, Accessed 10/9/15)
#6: CLINTON'S CAMPAIGN HAS BRAGGED ABOUT "THREADING THE NEEDLE" ON ETHANOL
PRIVATE CLINTON: Thread The Needle On Ethanol Mandate To Avoid Offending Anyone
In May 2015, In Response To An Article Detailing Clinton's Stance On The Ethanol Mandate Speechwriter Dan Schwerin Wrote "We Successfully 'Threaded The Needle' Yet Again!" "I'd say we successfully 'threaded the needle' yet again!" (Dan Schwerin, Email To John Podesta, At. El., "Fwd: National Journal: Hillary Clinton's Mend-It-Don't-End-IT Take On The Ethanol Mandate," John Podesta Wikileaks, 5/28/15)
PUBLIC CLINTON: Pledge To Strengthen The Federal Ethanol Mandate To Garner Support From Iowa Voters
As Part Of Her Campaign's Rural Aid Platform, Clinton Said She Wanted To Strengthen The Federal Renewable Fuel Standard Which Would Increase Ethanol Production. " A fact sheet provided by Clinton's campaign ahead of her speech says she would 'strengthen' the federal Renewable Fuel Standard to promote development of advanced biofuels and improve 'access' to ethanol products called E15 and E85. The plan does not state how this would be done and does not address the food vs. fuel environmental debate, although it follows the section on biofuels with bullet points on Clinton's clean energy program." (Anne Gearan, "In Iowa, Clinton Backs Ethanol As Part Of Rural Aid Plan," The Washington Post , 8/26/15)
#7: CLINTON TOLD UNIONS SHE WOULDN'T GET IN THE WAY OF THE KEYSTONE PIPELINE, BUT PUBLICLY OPPOSED SAID SHE'D STOP IT
PRIVATE CLINTON: Won't Oppose The Keystone XL Pipeline
On September 9, 2015, Clinton Told A Meeting Of The Building Trades Union That As President She Would Not Necessarily Veto The Keystone Pipeline If It Were Approved By Congress. QUESTIONER: "I want to ask you a hard question on the same thing. If you become the president and we turn the next Congress around and we get it passed, would you veto it?" CLINTON: "You know, I don't know the answer to that. I don't want to mislead you. I don't know the answer to that and I'll tell you why, because I don't think that Congress has the authority to pass it. The law is pretty clear that this is an executive decision because it crosses the Canadian border. Remember that Congress tried to do something on it before and the general opinion was it doesn't mean anything because they have no authority to do it." (Varun Anand, E-Mail To Jennifer Palmieri, Et. Al., "20150909 Transcript Building Trades Union (Keystone XL)," John Podesta Wikileaks, 9/9/15)

In April 2014, Speechwriter Dan Schwerin Emailed John Podesta To Suggest Removing References To The Keystone XL Pipeline From Clinton's Memoir Hard Choices. " Our editor Jonathan Karp has suggested to HRC that she cut the reference to Keystone from the book, a change that apparently is still manageable in the production process even at this late date (lets hope it doesn't open the > floodgates). His view is that it 'reads like you're punting on an issue I don't think readers are expecting you to address in the first place. Unless you feel some need to mention it, I'm not sure what the gain is. You say you're waiting for the study before making a determination, but I question whether any study is capable of defining a clear course of action, and some > readers might think that relying on a study is a stalling tactic.' As background, she decided to write about Keystone because her daughter suggested that it would be a glaring omission and look like an even worse dodge if she left it out. Podesta, copied here, helped us craft the language below, which HRC/WJC edited again this week. I'd like to present her with a recommendation as soon as possible as to whether we think this should stay or go. Thoughts?" (Dan Schwerin, Email To John Podesta, "Keystone In The Book," John Podesta Wikileaks, 4/22/14)
PUBLIC CLINTON: Oppose Keystone Because It Is A "Distraction"
In October 2015, Clinton Said She Opposed The Keystone XL Pipeline Because It Was A "Distraction From The Important Work We Have To Do To Combat Climate Change." CLINTON: "I think it is imperative that we look at the Keystone pipeline as what I believe it is - a distraction from the important work we have to do to combat climate change, and unfortunately, from my perspective, one that interferes with our ability to move forward to deal with all the other issues. Therefore I oppose it." (Hillary Clinton, Remarks At Community Forum At Moulton Elementary, Des Moines, IA, 9/22/15)
#8: "KEEP IT IN THE GROUND" ENVIRONMENTALISTS
PRIVATE CLINTON: At Odds With Environmentalists
In A September 2015 Speech, Clinton Described Herself As Being "At Odds With The Most Organized And Wildest" Environmentalists, Saying She Wouldn't Pledge To Keep Fossil Fuels In The Ground, And Said They Should "Get A Life." CLINTON: "And you know, I'm already at odds with the most organized and wildest. They come to my rallies and they yell at me and, you know, all the rest of it. They say, 'Will you promise never to take any fossil fuels out of the earth ever again?' No. I won't promise that. Get a life, you know. So I want to get the right balance and that's what I'm [inaudible] about-- getting all the stakeholders together. Everybody's not going to get everything they want, that's not the way it's supposed to work in a democracy, but everybody needs to listen to each other." (Varun Anand, E-Mail To Jennifer Palmieri, Et. Al., "20150909 Transcript Building Trades Union (Keystone XL)," John Podesta Wikileaks, 9/9/15)
PUBLIC CLINTON: Pandering To Environmentalists, Saying We Need "To Keep More Fossil Fuels...In The Ground"
In October 2015, Clinton Said America Has "To Move Away From Fossil Fuels" And Must "Keep More Fossil Fuels Under The Ocean And In The Ground." CLINTON: "We have to move away from fossil fuels including gas, but that gas can be a useful bridge, especially as we move away from coal, and we move away from dirtier oil and some of the really bad alternatives. And we want to keep more fossil fuels under the ocean and in the ground. That's why I'm against arctic drilling and why I'm against offshore drilling because I don't think we should start that." (Hillary Clinton, Remarks At Town Hall, Keene, NH, 10/16/15)
#9: IN PRIVATE THE CLINTON'S AVOID ANY POSSIBLE CONTACT WITH LOW-DOLLAR CAMPAIGN DONORS
PRIVATE CLINTON: Hostility Toward Small Dollar Donors
In October 2015, Bill Clinton's Chief Of Staff Tina Flournoy Told Podesta's Chief Of Staff Sara Latham That Her Team Did Not Like The Idea Of A Fundraising Contest Where A Small Dollar Donor Would Win A Dinner With Bill Clinton. "Tina called me. they just don't like the notion of a contest...think it's cheesy, and want to protect his brand. I gave her Teddy's lines on ROI." (Sara Latham, Email To Teddy Goff, Et. Al., "Re: WJC & Digital Ask Follow-Up," John Podesta Wikileaks, 10/28/15)
PUBLIC CLINTON: Clinton Has Changed Her Campaign Website Repeatedly In An Attempt To Prove She Isn't Relying Solely On Maxed Out Donors
Clinton's Disclaimer Currently Touts That Her Campaign Is Funded By "Over 2 Million" Grassroots Donors.
(Hillaryclinton.com, Accessed 10/19/16)
Clinton's Disclaimer Changed In The Spring Of 2016 To Imply Her Campaign Is Funded By Grassroots Donors.

(Hillaryclinton.com, 4/8/16, Accessed via WaybackMachine, 10/19/16)
Clinton's Original Disclaimer Did Not Include Any Reference To Grassroots Donors.
(Hillaryclinton.com, 4/4/16, Accessed via WaybackMachine, 10/19/16)
#10: IN PRIVATE THE CLINTON CAMPAIGN GOT TIPS FROM THE DEPARTMENT OF JUSTICE REGARDING HER SECRET SERVER SCANDAL
PRIVATE CLINTON: Collude With The Department Of Justice To Undermine Public Scrutiny Of Your Email Scandal, Benghazi
On April 9, 2015, Kristina Schake Referred To A Tip From A Source Regarding When The State Department Planned To Release Clinton's Benghazi Emails. " Someone here just got a tip that the State Department may be planning to release her Benghazi emails tomorrow or Monday. Not sure the source is reliable. Has anyone heard anything about this?" (Kristin Schake, Email To John Podesta Et. Al., "Re: Email Release," John Podesta Wikileaks, 4/9/15)
In Two Emails On April 13, 2015 And April 15, 2015, Heather Samuelson Followed Up On Schake's Email With Further Tips Regarding When The Benghazi Emails Were Going To Be Released. " Latest: Still aiming for Friday, but potential it gets delayed until early next week because still moving through interagency review process. Will check back tomorrow and keep you posted. Quick update on this -- DOS says the release of the 300 will likely happen on Thurs or Friday. Will keep you posted as I hear anything further on my end. Thx." (Heather Samuelson, Email To John Podesta Et. Al., "Re: Email Release," John Podesta Wikileaks, 4/15/15)
PUBLIC CLINTON: Points To Your Fellow Colluders As Faithful Servants Of The Justice System When It Comes To Her Secret Server
Clinton Has Urged The American People To Listen To The FBI Director And What He Said About Her Secret Server. FOX NEWS' CHRIS WALLACE: The e-mails - I want to ask about one aspect, what you told the American people." CLINTON (CLIP): "I did not e-mail any classified material to anyone on my e-mail. There is no classified materials. I am confident that Ii never sent nor received any information that was classified at the time. I had not sent classified material nor received anything marked classified." WALLACE: "After a long investigation, FBI director James Comey said none of those things that you told the American public were true." CLINTON: "Chris, that's not what I heard Director Comey say, and I thank you for giving me the opportunity, in my view, clarify. Director Comey said my answers were truthful, and what I've said is consistent with what I have told the American people, that there were decisions discussed and made to classify retroactively certain of the e-mails. I was communicating with over 300 people in my e-mailing. They certainly did not believe and no reason to believe that what they were sending was classified. In retrospect, different agencies come in and say, well, it should have been, but that's not what was happening in real time." WALLACE: "But in a congressional hearing on July 7th, Director Comey directly contradicted what I had told the public." REP. TREY GOWDY (R-SC) (CLIP): "Secretary Clinton said there was nothing marked classified on her e-mails either sent or received. Was that true?" DIRECTOR JAMES COMEY (CLIP): "That was not true." GOWDY (CLIP): "Secretary Clinton said I did not send any classified material that was classified material. Was that true?" COMEY (CLIP): "There was classified material e-mailed." WALLACE: "He directly contradicted. Not only he directly contradicted what you said, he also said in that hearing that you were extremely careless and negligent." CLINTON: "Well, Chris, I looked at the whole transcript of everything that was said, and what I believe is, number one, I made a mistake not using two different e-mail addresses. I have said that and I repeat it again today. It is certainly not anything I would ever do again. I take classification seriously. I relied on and had every reason to rely on the judgments of the professionals with whom I worked. And so in retrospect, maybe some people are saying, well, among those 300 people they made the wrong call. Ted there was no reason in my view to doubt the professionalism and the determination by the people who work every single day on behalf of our country." ( Fox News Sunday, 7/31/16)
#11: IN PRIVATE THE CLINTON CAMPAIGN THINKS IT IS OKAY TO TAKE FOREIGN MONEY TO FUND THEIR CAMPAIGN
PRIVATE CLINTON: Double Down On Taking Money With Foreign Government Ties, Despite Acknowledging The Ethical Problems
On April 13th 2015, Dennis Cheng Sent An Email Saying That The Campaign Had To Decide Whether They Would Allow Those Lobbying On Behalf Of Foreign Governments To Be Campaign Bundlers. "We really need make a policy decision on this soon - whether we are allowing those lobbying on behalf of foreign governments to raise $ for the campaign. Or case by case" (Dennis Cheng, Email To John Podesta Et. Al., "Re: Foreign Registered Agents," John Podesta Wikileaks , 4/17/15)
Jesse Ferguson Asked "How Much Money We're Throwing Away" If These Donors Were Not Allowed To Raise Money. "Is there anyway to ballpark what percent of our donor base this would apply to (aka how much money we're throwing away) Cost benefits are easier to analyze with the costs. :)" (Jesse Ferguson, Email To John Podesta Et. Al., "Re: Foreign Registered Agents," John Podesta Wikileaks , 4/17/15)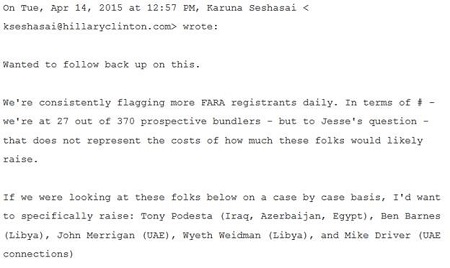 A Phone Call Involving John Podesta, Robby Mook, And Huma Abedin Occurred In Which The Decision Was Made To Not Allow FARA Registered Lobbyists To Contribute Or Raise For The Campaign. "Following up on the call from 9:30. The policy would be to not allow any currently registered foreign agents (those who register with FARA) to contribute or raise for the campaign. If someone terminates their registration, they would be allowed to contribute or raise for the campaign." (Karuna Seshasai, Email To John Podesta Et. Al., "Re: Foreign Registered Agents," John Podesta Wikileaks , 4/17/15)
Robby Mook Changed His Opinion, Saying "In A Complete U-Turn, I'm' Ok Just Taking The Money And Dealing With Any Attacks." "Marc made a convincing case to me this am that these sorts of restrictions don't really get you anything...that Obama actually got judged MORE harshly as a result. He convinced me. So...in a complete U-turn, I'm ok just taking the money and dealing with any attacks. Are you guys ok with that?" (Robby Mook, Email To John Podesta Et. Al., "Re: Foreign Registered Agents," John Podesta Wikileaks , 4/17/15)
PUBLIC CLINTON: Claim That The Clinton Foundation Will Move Away From Foreign Money To Avoid Conflicts Of Interest
In August 2016, Bill Clinton Announced It Would No Longer Accept Foreign Or Corporate Donations "If She Is Elected…" "If she is elected, we will immediately implement the following changes: The Foundation will accept contributions only from U.S. citizens, permanent residents, and U.S.-based independent foundations, whose names we will continue to make public on a quarterly basis. And we will change the official name from the Bill, Hillary & Chelsea Clinton Foundation to the Clinton Foundation." (Bill Clinton, "Empowering People To Build Better Futures For Themselves, Their Families, And Their Communities," Clinton Foundation , 8/22/16)
The Foundation Has Become A "Liability" For Clinton's 2016 Run. "While Bill Clinton and the Clinton campaign's supporters are clearly apoplectic that a charitable foundation that has done so much good work has become a potential liability for them in 2016, the fact remains that it has." (Aaron Blake, "The Clinton Foundation Has Become A Clear Liability, As Bill Clinton Mounts His Big Defense," The Washington Post , 9/21/16)
Bill's Post-Presidential Work With The Foundation Has Turned Into A "Political Obstacle For Hillary…Adding To The Damaging Perception That The Democratic Nominee Is Untrustworthy." "He also is expected to make an impassioned argument that the Clinton Foundation has improved lives around the world - a statement he hopes will serve as a powerful rebuke of the controversy that has turned his post-presidential work into a political obstacle for Hillary Clinton, adding to the damaging perception that the Democratic nominee is untrustworthy." (Annie Karni, "Bill Clinton Preps His Defense," Politico, 9/21/16)
#12: Privatley Clinton's Campaign Admits Their Foundation Has A "Huge" Gender Pay gap
PRIVATE CLINTON: Acknowledge A "Huge" Gender Pay Gap Within Your Own Foundation
In February 2015, Clinton Campaign Staffer Karuna Seshasai Detailed The $190,000 Pay Gap At The Clinton Foundation Between The Highest Paid Men And Women. "Attached is the equal pay hit pulled from the Foundation book. Essentially here are the key take aways: 3 out of the 11 highest paid employees of the Foundation are women. Avg salary of the highest paid men is $294,157.50, while the avg salary of the highest paid women is $181,576.66 ($112K difference) Median salary of the highest paid men is $346,106, while the median salary of the highest paid women is $185,386 ($190K difference) Chart and citations are on the attached doc. And I included the original > 2013 990, where the #s come from." (Karuna Seshasai, Email To Ian Mandel, "Equal Pay - Foundation," John Podesta Wikileaks,2/24/15)
Clinton's Research Director Tony Carrk And Robby Mook Were Advised Of The "Huge Discrepancies" Between Highest Paid Men And Women At The Clinton Foundation. "Guys - Given the story yesterday about pay equity at the State Department, I wanted to flag something that came out of our research on pay equity at the Foundation. There are huge discrepancies, and it wouldn't surprise me if they went here next. See a summary below from Karuna." (Ian Mandel, Email To Tony Carrk And Robby Mook, "Fwd: Equal Pay - Foundation," John Podesta Wikileaks,2/24/15)
PUBLIC CLINTON: Hypocritically Call Gender Pay Gaps "Workplace Discrimination"
Clinton's Campaign Website Laments That Women Earn Less Than Men And Promises That Clinton Would Give Women The Tools They Need To "Fight Workplace Discrimination." "Women earn less than men across our economy-and women of color often lose out the most. Hillary will promote pay transparency across the economy and work to pass the Paycheck Fairness Act-a bill she introduced as senator-to give women the tools they need to fight workplace discrimination." ("Women's Rights And Opportunity," Hillary For America, 11/13/15)
#13: CLINTON'S DIFFERENT PUBLIC AND PRIVATE POSITIONS ON THE CADILLAC TAX
PRIVATE CLINTON: Acknowledge Two Positions On ObamaCare's Odious Cadillac Tax
While Discussing How The Campaign Would Frame Clinton's Position On The Cadillac Tax, Fallon Admitted Their Stance Was "A Clever Attempt To Be Both For And Against The Cadillac Tax." " Can I ask what headline we are seeking with this? Because it strikes me as a clever attempt to be both for and against the cadillac tax. Why arent we just for outright repeal if we are going to cede back all the revenue anyway by holding <250k harmless?" (Brian Fallon, Email To Ann O'Leary, Et. Al., "Cadillac Tax," John Podesta Wikileaks, 9/26/15)
PUBLIC CLINTON: Publicly Oppose The Cadillac Tax Out Of Fear Of Losing Union Support
The Cadillac Tax Is A 40 Percent "Excise Tax On High Cost Employer-Sponsored Health Coverage." "On December 18, 2015, President Obama signed into law the Consolidated Appropriations Act, 2016 ('Appropriations Act' or 'Act'), which, among its many budgetary provisions, delays both the Cadillac tax and the medical device tax by two years and provides for the deductibility of the Cadillac tax. These legislative changes are welcome news to employers and medical device vendors, and are expected to provide significant savings to each over the next several years. The Patient Protection and Affordable Care Act ('ACA') imposes an 'excise tax on high cost employer-sponsored health coverage' through Section 4980I of the Internal Revenue Code ('Code'). This so-called 'Cadillac tax' imposes a 40 percent tax on the 'excess benefit' of 'employer-sponsored coverage,' and applies to both insured and self-insured health plans, as well as federal and state governmental plans." (Mary Beth Braitman, Sarah K. Funke, Melissa Proffitt, Tara Schulstad Sciscoe, and Christopher S. Sears, "Cadillac Tax Delayed Until 2020,"IceMiller.com, 12/23/15)
Clinton Broke From President Obama And Called For The Cadillac Tax To Be Repealed. "Just as a dislike of the Cadillac tax is widespread outside Washington-joining, for example, unions and the U.S. Chamber of Commerce in the same unlikely fight-Congress, too, opposes the tax on a broad bipartisan basis. In a symbolic, but illustrative, vote last month, the Senate voted 90 to 10 to get rid of it. And lawmakers, led by top Democratic leaders, discussed postponing or revoking the tax during the omnibus budget negotiations. Ultimately, they managed to include a two-year delay in the tax's implementation, from 2018 to 2020, in the omnibus. The White House isn't even holding as hard a line on the tax as it did just weeks before the president signed off on the omnibus. Administration officials suggested "tweaks," some of which survived negotiations that make the tax more palatable. Calls to scrap the tax have been heard on the campaign trail as well: All three Democratic candidates oppose it, and Senator Bernie Sanders cosponsored legislation to repeal it." (Nora Kelly, "How Many Workers Will The Cadillac Tax Hit?" The Atlantic, 1/28/16)
Clinton Risked Losing Union Support Unless She Supported Repealing The Tax. "Clinton has been under mounting pressure to oppose the tax or risk losing big-dollar union support to her 2016 Democratic rivals; Sen. Bernie Sanders (I-Vt.) and former Maryland Gov. Martin O'Malley have both come out against it." (Sarah Ferris, "Clinton Opposes Obamacare Cadillac Tax," The Hill, 9/29/16)
#14: PRIVATELY, CLINTON WANTED TO DISTANCE HERSELF FROM PLANNED PARENTHOOD IN JULY 2015
PRIVATE CLINTON: Acknowledge The Controversy Surrounding Tapes Showing Planned Parenthood Officials Selling Fetal Tissue
According To A July 2015 Email From Dan Schwerin Discussing Remarks Clinton Would Be Giving, Clinton "Felt Strongly About Not Touching Planned Parenthood" After The Release Of Controversial Recordings Surrounding The Organization. "Team, thanks for the good feedback on the Iowa speech. Latest draft is attached, which also reflects her suggestions. Two notes: 1) apparently a time limit is being strictly enforced, so I've cut this down a bunch. 2) HRC felt strongly about not touching Planned Parenthood right now. Jen talked to her about it so perhaps could elaborate. Thanks Dan." (Dan Schwerin Email To John Podesta, et al., "IDP Dinner," John Podesta WikiLeaks, 7/17/15)
PUBLIC CLINTON: Come Out As One Of Planned Parenthood ' s Biggest Supporters
Planned Parenthood: "We Endorse Hillary." ( Planned Parenthood Action,Accessed 1/27/16)
Planned Parenthood President Cecile Richards Tweeted Her Endorsement Of Clinton. "@HillaryClinton Proud to support a lifelong champion for women's health. See you in NH. Talk soon to coordinate pantsuits? Too much?" (Cecile Richards, Twitter Feed, 1/7/16)
Clinton Said She Was Honored To Have Planned Parenthood's Endorsement And That "There Has Never Been A More Important Election When It Comes To Women's Health And Reproductive Rights." "'As a lifelong Planned Parenthood supporter, I'm honored to have the endorsement of the Planned Parenthood Action Fund,' Clinton said in response to the endorsement. 'There has never been a more important election when it comes to women's health and reproductive rights -- and Planned Parenthood's patients, providers, and advocates across the country are a crucial line of defense against the dangerous agenda being advanced by every Republican candidate for president.'" (Dan Merica, "Planned Parenthood To Endorse Hillary Clinton," CNN, 1/7/16)
#15: PRIVATELY, CLINTON HAS BEOMONED THE STATE OF U.S. - RUSSIA RELATIONS SAYING PUTIN REJECTS OPPORTUNITIES FOR COOPERATION "OUT OF HAND"
PRIVATE CLINTON: Reject Notions Of Cooperating With Russia's Putin
During A Private Speech With Goldman Sachs, Clinton Said That She Wished She Could Have A Better Working Relationship With Putin But He Has Rejected Opportunities To Cooperate "Out Of Hand." "So we were making progress, and I think Putin has a different view. Certainly he's asserted himself in a way now that is going to take some management on our side, but obviously we would very much like to have a positive relationship with Russia and we would like to see Putin be less defensive toward a relationship with the United States so that we could work together on some issues. We've tried very hard to work with Putin on shared issues like missile defense. They have rejected that out of hand." (Tony Cark Email To Clinton Staffers, "Re: Goldman Sachs Paid Speeches," John Podesta Wikileaks, 1/23/16)
PUBLIC CLINTON: Maintain The Failed Reset Was "A Brilliant Stroke" Aimed At Enhancing Co-Operation
Clinton On The Russia Reset, June 2014: "I Thought It Was A Brilliant Stroke, Which In Retrospect Appears Even More So, Because Look At What We Accomplished." BBC HOST: "You famously pressed the reset button. Are you embarrassed by that now, that gesture?" CLINTON: "No I thought it was a brilliant stroke, which in retrospect appears even more so, because look at what we accomplished." ( Interview With BBC, 6/13/14)
Clinton, July 2014: "[W]hat I Think I Demonstrate In The Book Is That The Reset Worked." PBS'S JOHN HARWOOD: "Let's talk about Russia for a second… And so I guess my question is, you say in the book that America can't solve everything but nothing can be solved without America; we're the indispensable nation. If neither approach, the Bush administration or the Obama administration, worked with Putin, what exactly are we indispensable for?" CLINTON: Well, I would take issue with the way you characterize that, because what I think I demonstrate in the book is that the reset worked. It was an effort to try to obtain Russian cooperation on some key objectives while Medvedev was president, and of course Putin still pulled the strings but he gave Medvedev a certain amount of independence to negotiate, number one, a new arms control treaty, which was absolutely necessary." (NPR's "On Point," 7/24/14)
In March 2009, Clinton Presented Her Russian Counterpart With A "Reset" Button, Illustrating The Obama Administration's Desire To Press "The Reset Button" With Russia. "When it comes to Russia, the Obama administration has been talking about 'pressing the reset button.' It's meant to symbolize a possible new start in U.S./Russian relations, which 'crashed' after Russia invaded Georgia last August. So when Secretary of State Hillary Clinton greeted Russian Foreign Minister Sergey Lavrov in Geneva Friday before sitting down to their working dinner, she was all smiles when she presented him a small green box with a ribbon. Lavrov opened it and, inside, there was a red button with the Russian word 'peregruzka' printed on it." (Jill Dougherty, "Clinton 'Reset Button' Gift To Russian FM Gets Lost In Translation," CNN, 3/6/09)
---
Elections
Hillary Clinton