Hillary Clinton received exactly zero negative hit questions from the moderator at last night's debate. Donald Trump was asked four. ​We noticed a few important questions were noticeably absent. Here are a list of the top 10 that should have been asked:
1. Hillary Clinton's aides needed criminal immunity from the FBI in order to be willing to speak about her secret server. How does Hillary explain that to the American people?
2. The number of false statements Hillary makes trying to excuse and cover up her secret server grows almost daily. Why can't Hillary tell the truth about her email scandal?
3. By describing half of all Donald Trump's supporters as deplorable, Hillary has shown her contempt for millions of Americans. Why did she choose to insult the American people?
4. Clinton's State Department repeatedly gave preferential treatment and favors to Clinton Foundation donors. How does Hillary explain the pay-to-play accusations that plague her tenure as Secretary of State?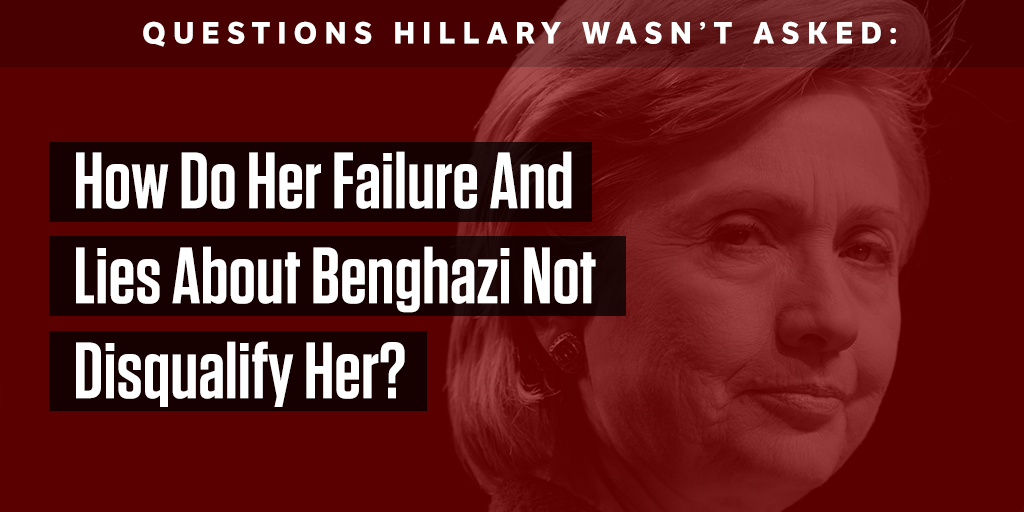 5. One of Hillary's most devastating failures while Secretary of State was the terrorist attack in Benghazi on the anniversary of 9/11. How does she answer for that failure and for the lies she told afterwards?
6. In spite of the fact that ObamaCare is sticking millions of Americans with skyrocketing premiums and is failing, Hillary has expressed continued support for the ObamaCare disaster. Why won't she listen to the majority of Americans who are fed up with ObamaCare?
7. How does Hillary justify her hypocrisy on Wallstreet as she harshly criticizes them on one hand, but accepts millions of dollars from them on the other?
8. Why did Hillary dismiss the Veterans Affairs scandal as "not widespread" even as many Veterans struggled to receive the care they needed?
9. Hillary said she would "put a lot of coal miners and coal companies out of business." Why would she want to hurt an entire industry that so many Americans depend on for their livelihood?
10. Why has Hillary been needlessly deceptive and secretive about her own health?
---
Elections
Hillary Clinton